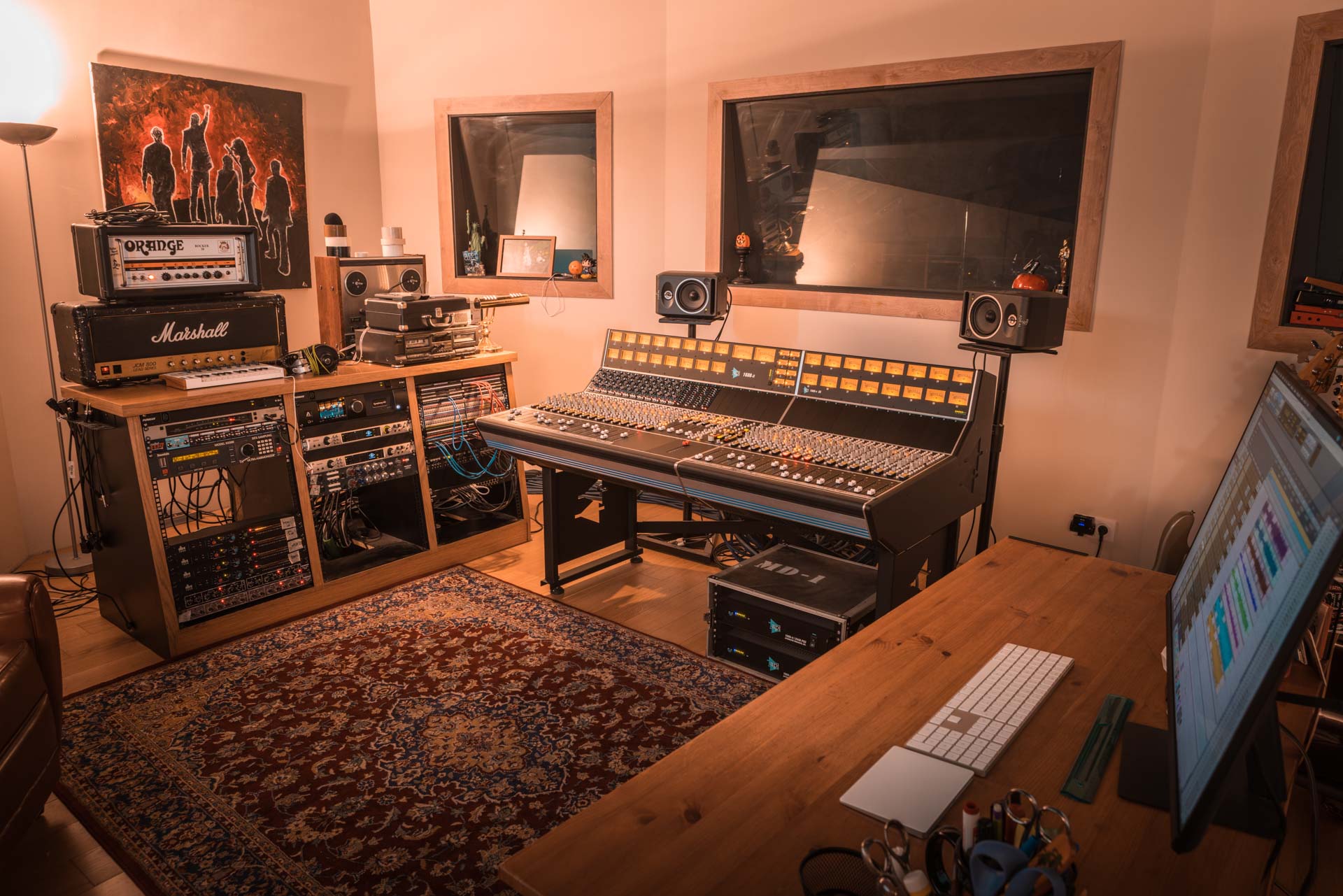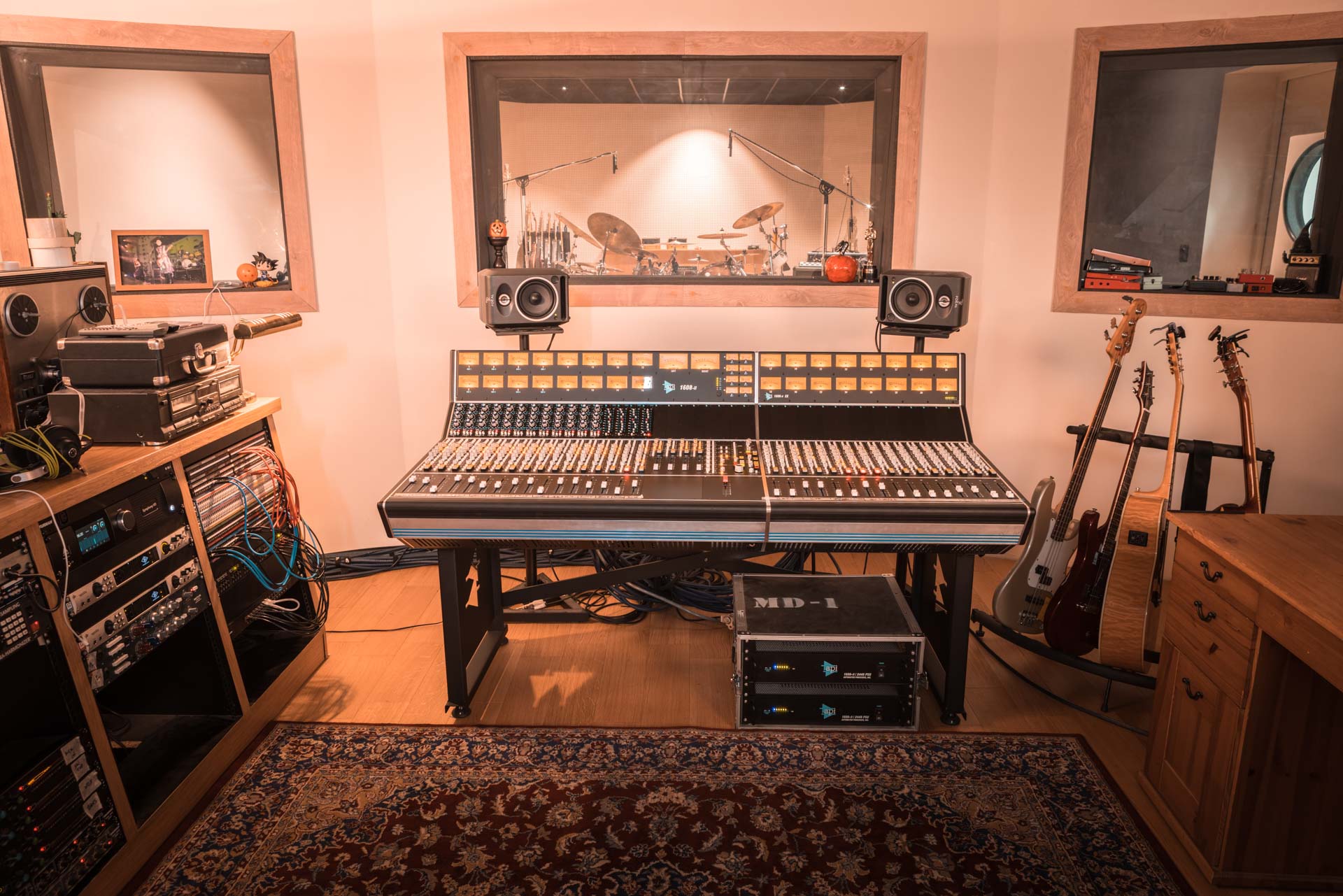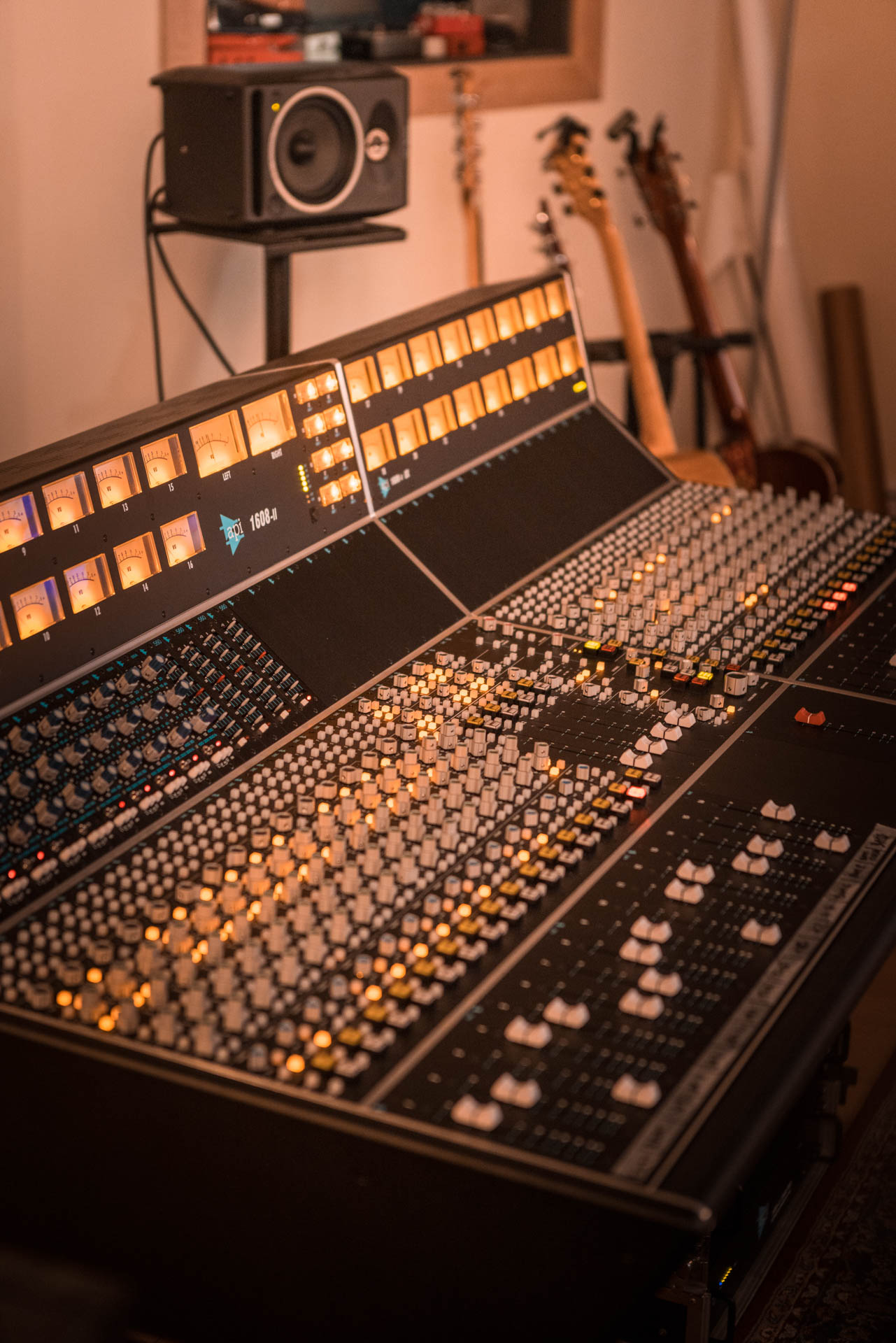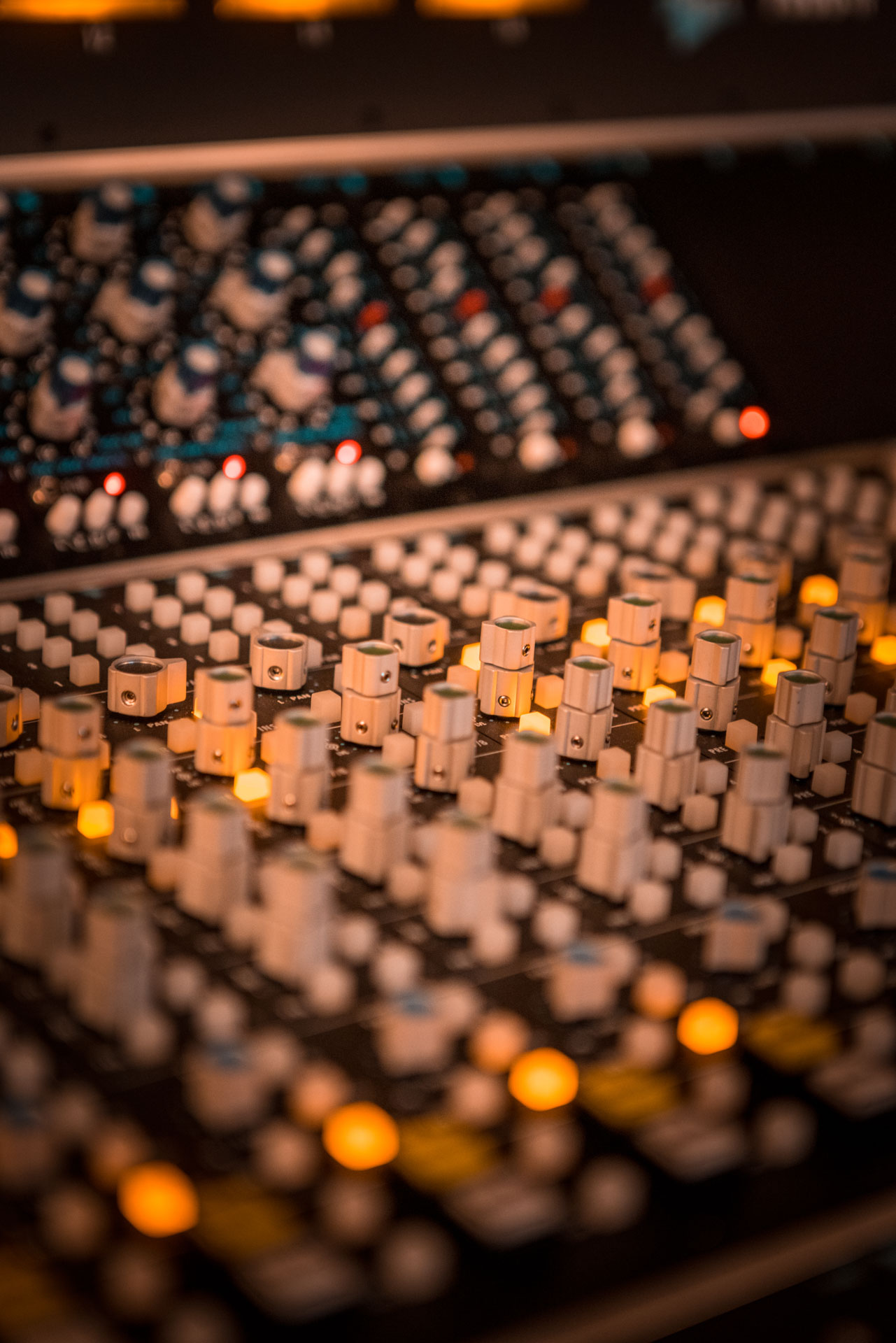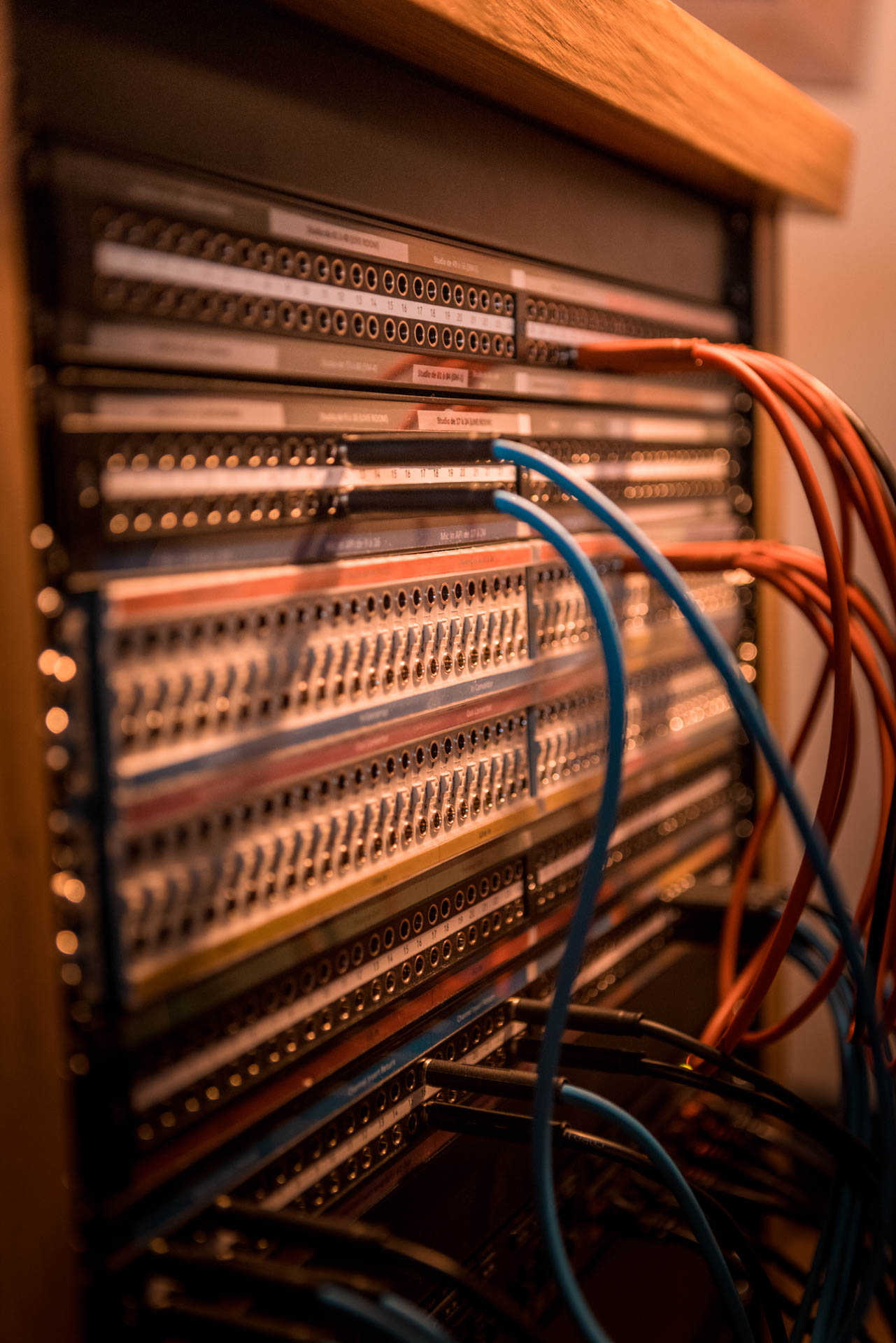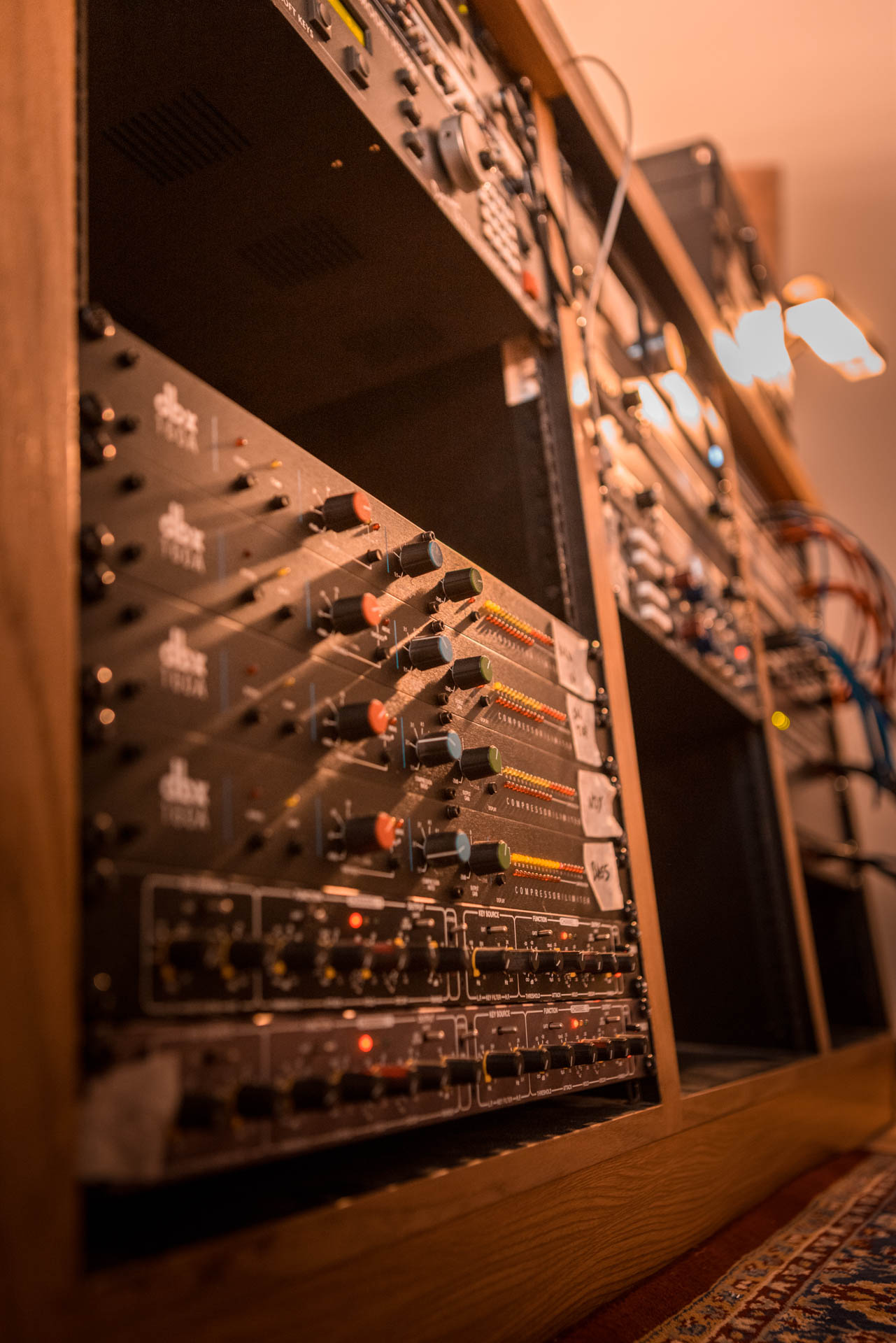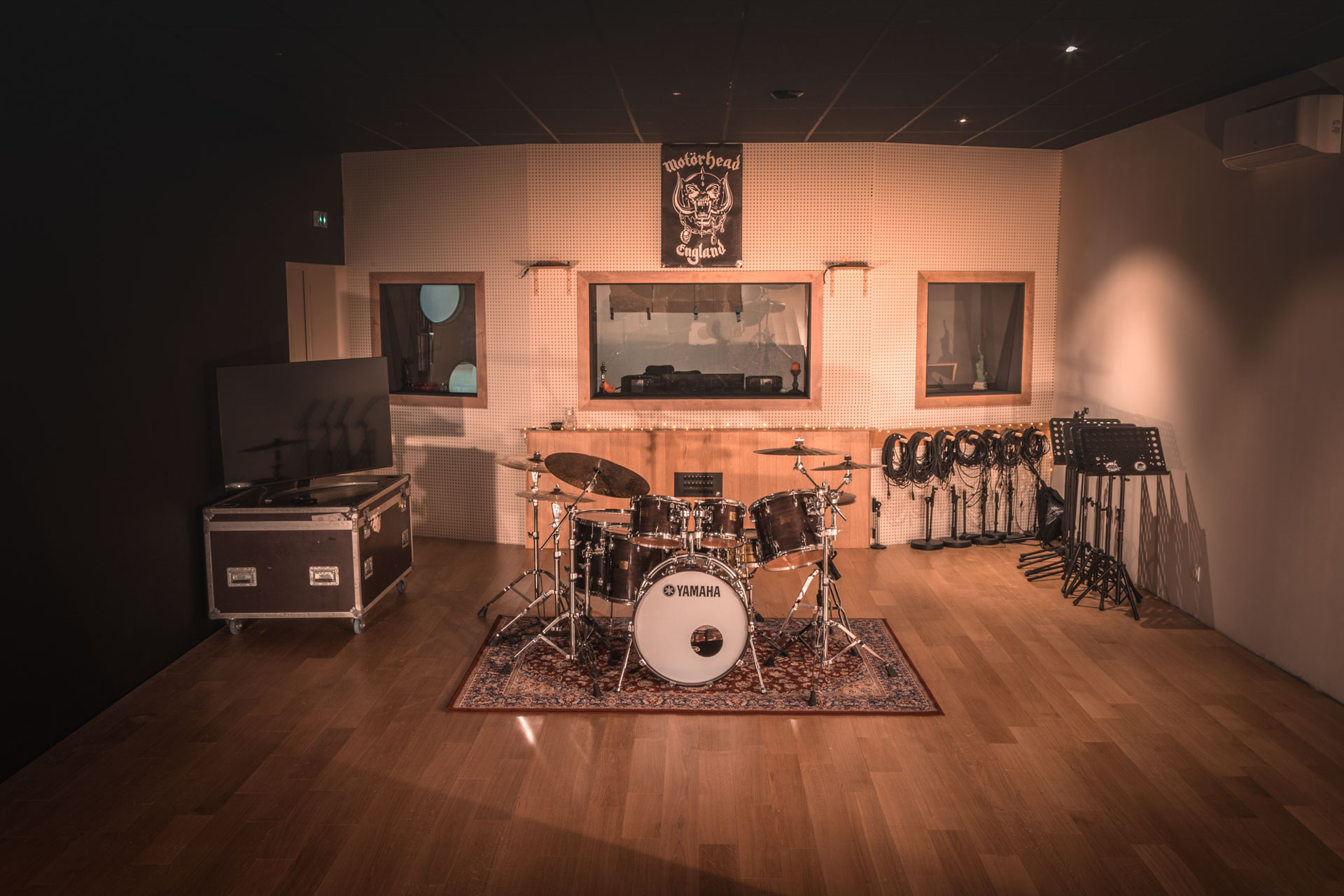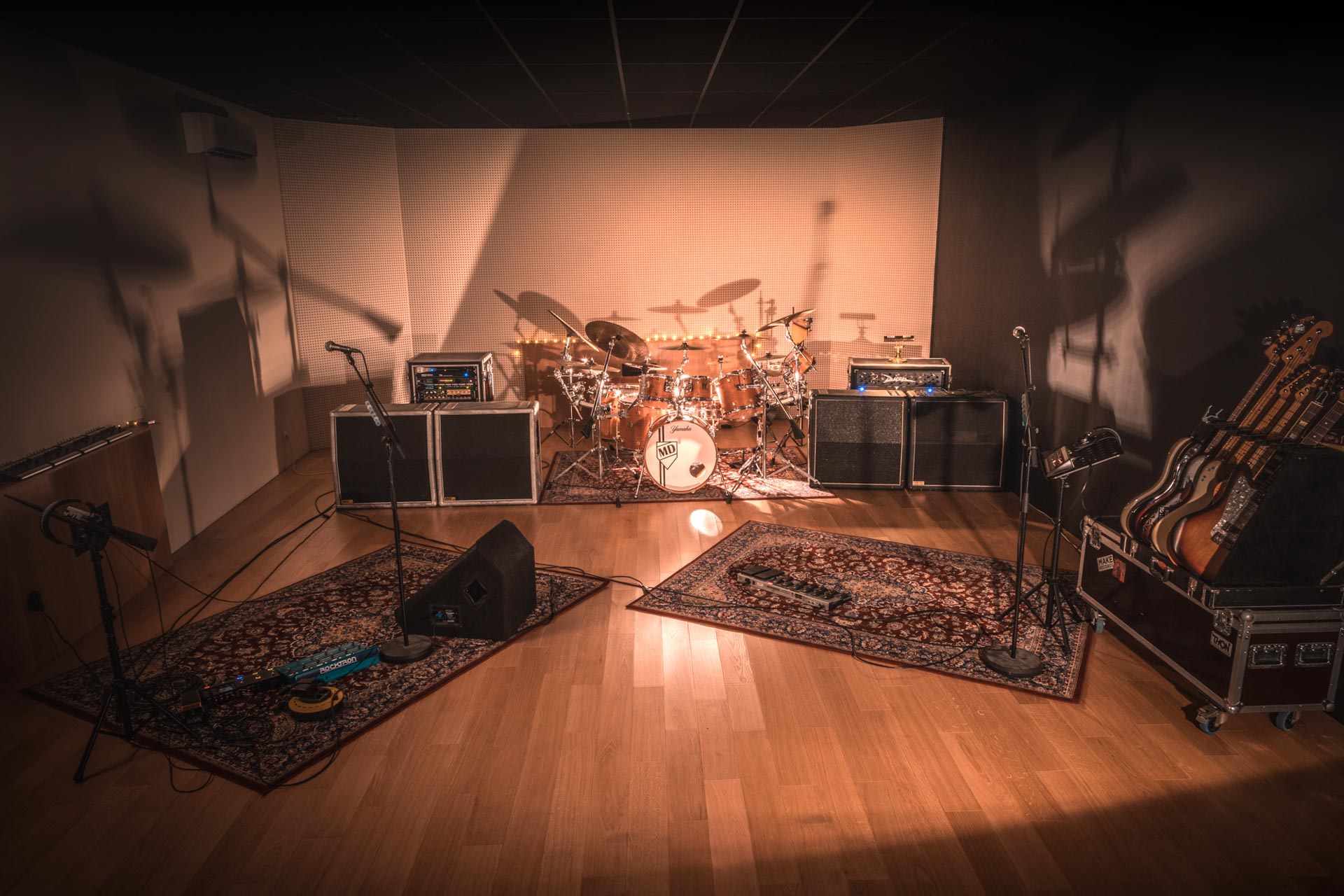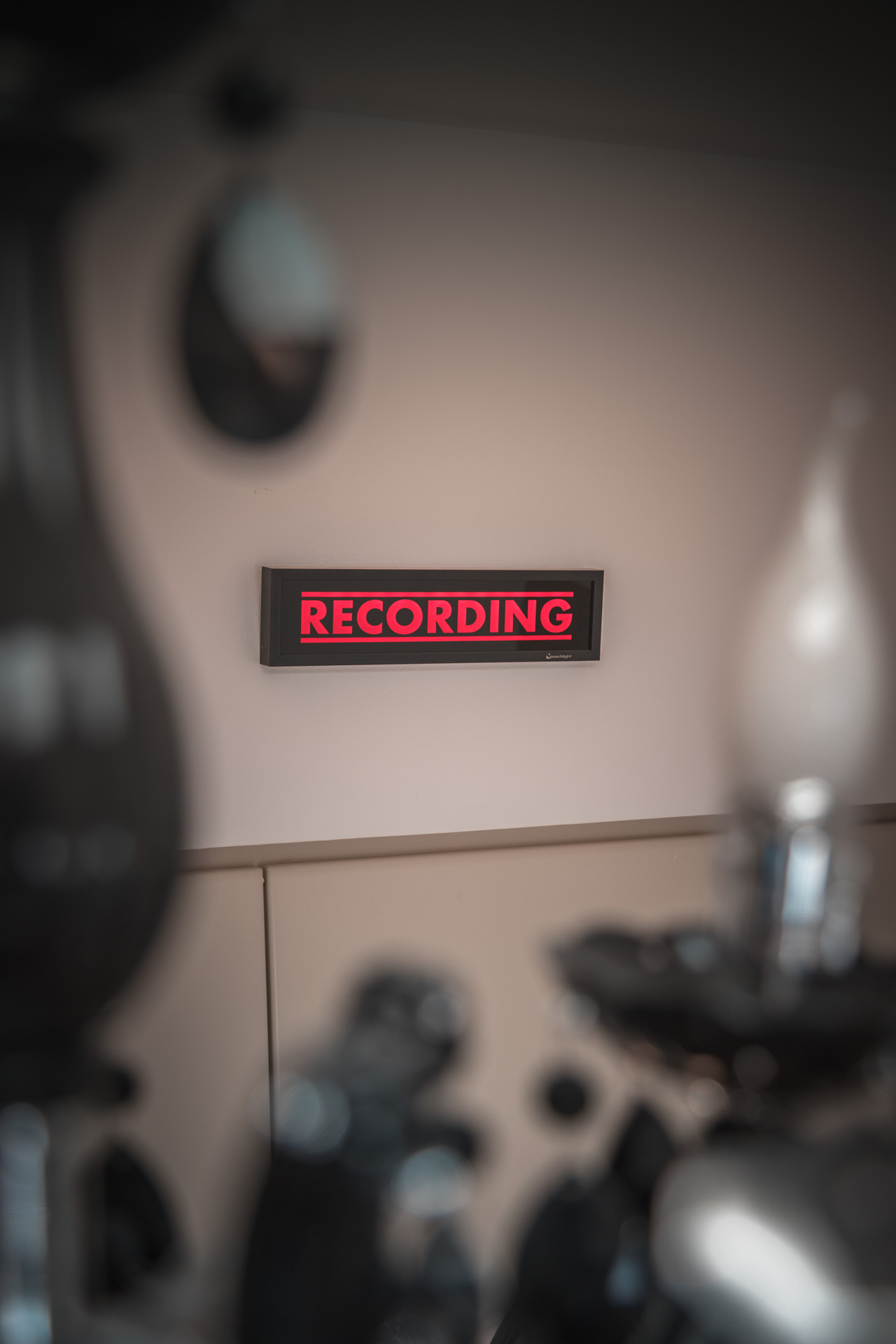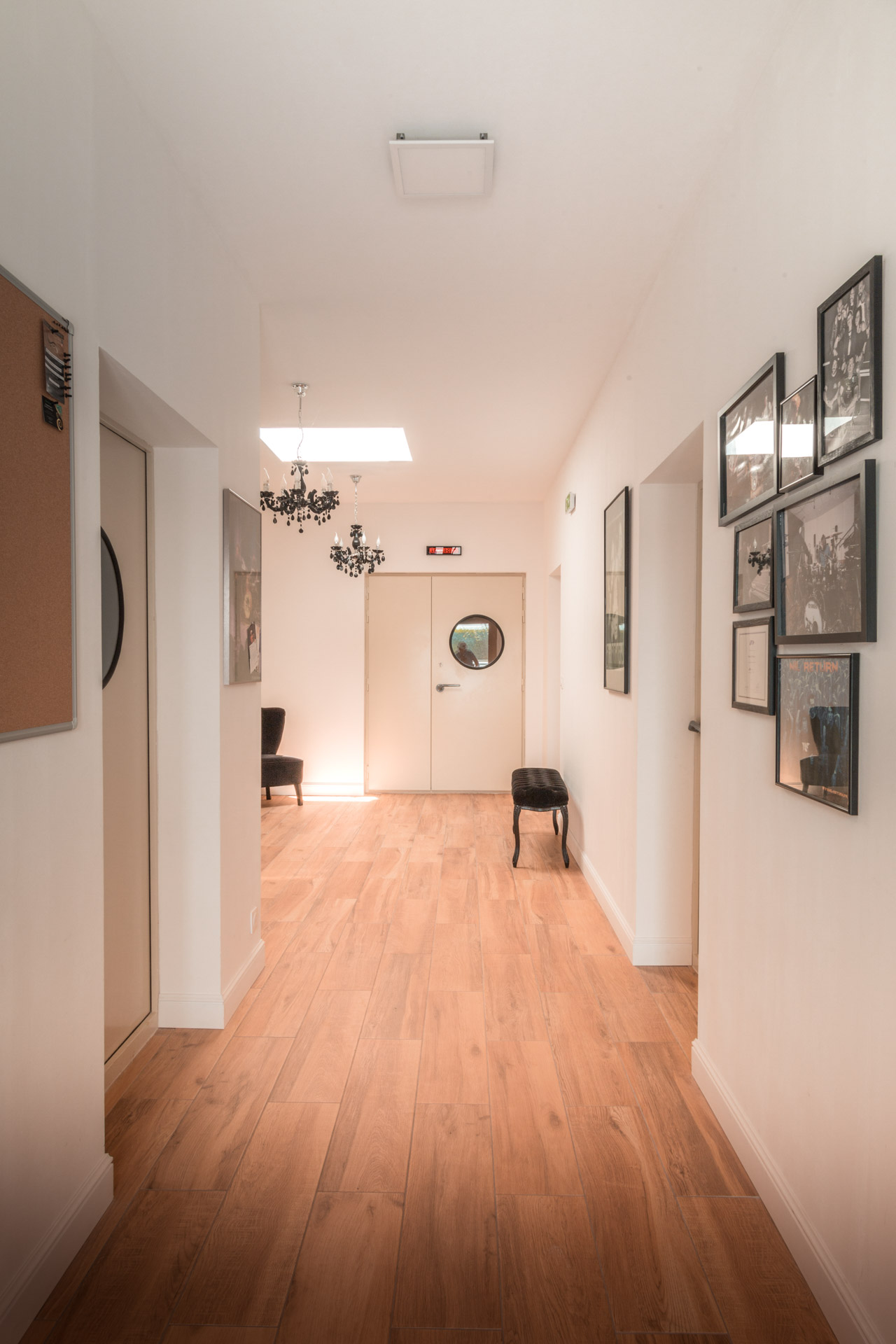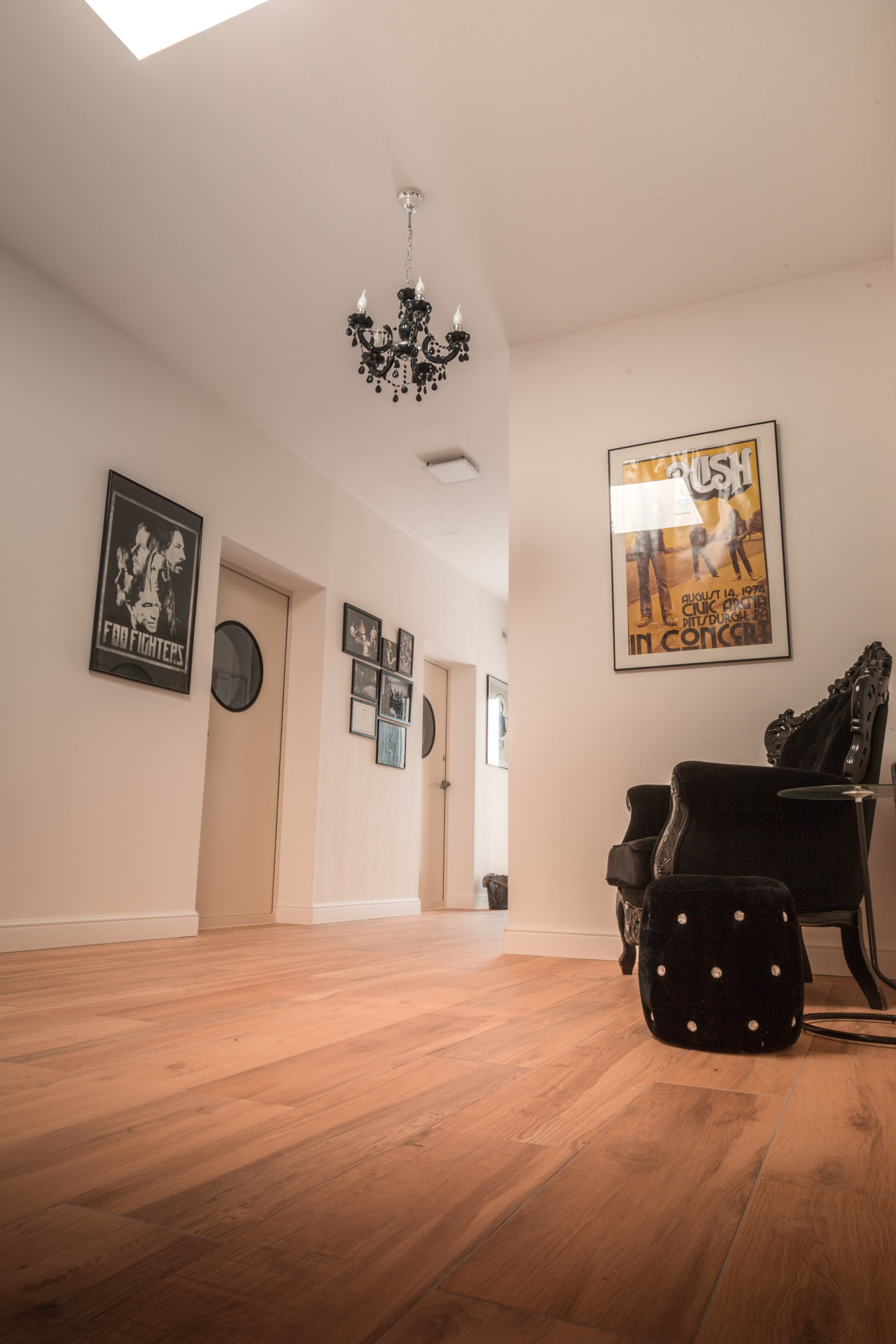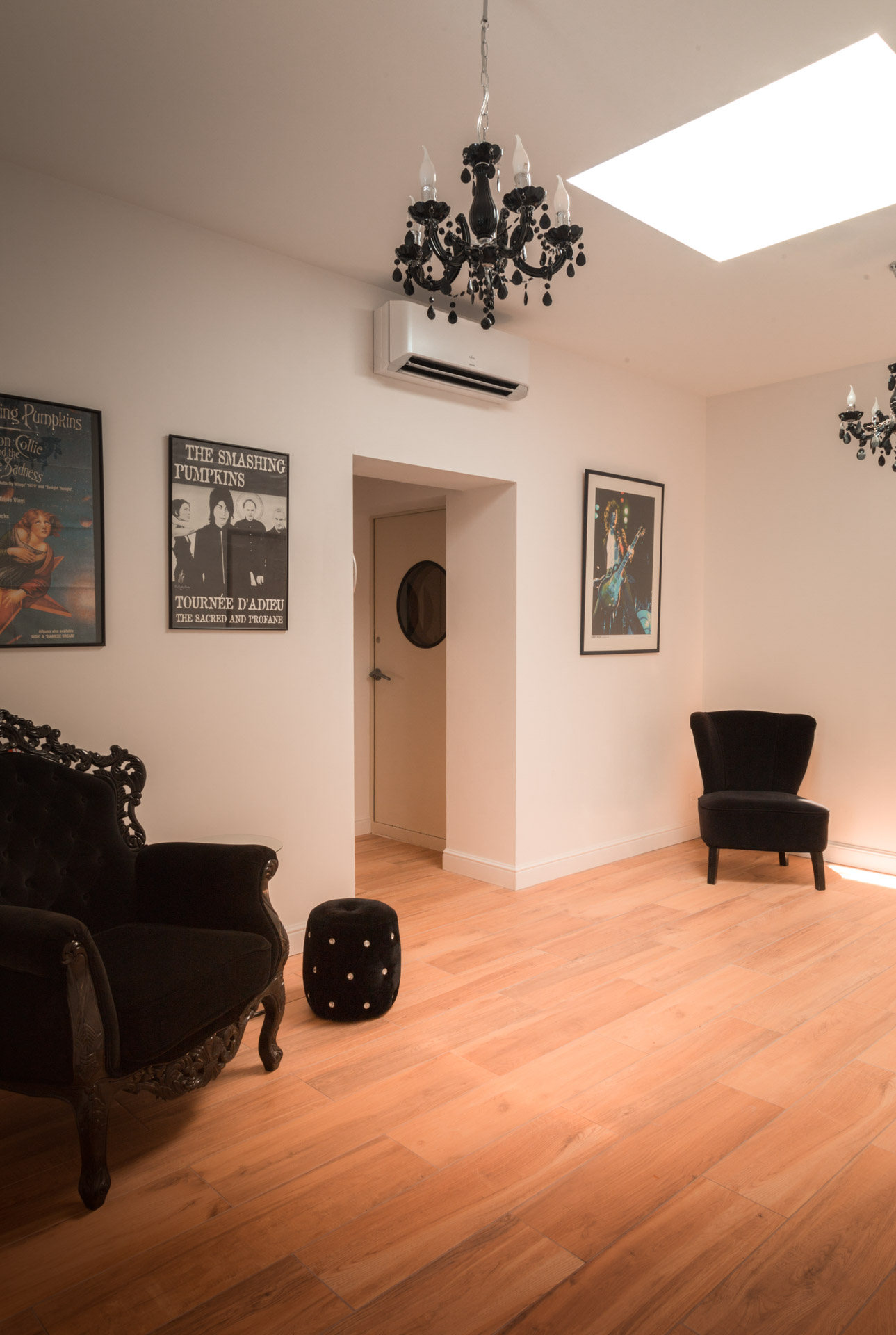 Pegasus Studios est un studio d'enregistrement qui réside dans la Rockschool Royan, un complexe d'une superficie de 350 m2, plus un parking de 150 m2.
Le Live Room de Pegasus Studios offre un espace ouvert doté d'une bonne hauteur sous plafond, de 3m10, et d'une surface au sol de 70m2 avec un parquet en chêne massif. Un beau volume idéal pour accueillir un groupe et enregistrer des batteries, piano, ensembles vocaux… 
Adjacent au Live Room, se trouve le Control Room (régie) de 30 m2 muni du même parquet. Ce Control Room est lui-même juxtaposé à une autre salle d'enregistrement de 19m2. 
D'autres salles, dans le complexe, permettent d'isoler des sources telles que des voix, des baffles d'amplificateurs, car le studio est équipé d'un patchbay et une possibilité d'enregistrer simultanément dans six salles via le patch de 88 entrées microphones dont 48 dans le seul Live Room. Un réseau casque par ethernet est également disposé pour router dans n'importe quelle salle du complexe.
English :
Pegasus Studios is a recording studio situated at the Rockschool Royan.
The building contains 350m2 with a 150m2 parking lot. The Live Room offers an open and spacious floor plan of 70 m2 with  solid Oak flooring, ideal for drums, piano and choirs. 
Adjacent to the Live room, is the Control Room that has the same wood flooring with a span of 30 m2. There are multiple rooms in the building which allow you to record other isolated sources like voices and guitar and bass cabinets. All Six rooms are wired up with headphones and microphone inputs. The live room has 48 microphone inputs with additional inputs in the other rooms. In total, up to 88 inputs in the entire facility.
STUDIO DIMENSIONS
Live Room : 70 m2
Control Room : 30 m2
Iso Booth 1 : 18 m2
Iso Booth 2 : 19 m2
Iso Booth 3 : 22m2
Booth 4 : 13 m2
STUDIO GEAR
System
API 1608 II 32 channels
Loaded : (x12) 550A 3 band
(X4) 560 EQ grafic
Apple Mac Mini M1 MacOs Big Sur 16G 1T
Samsung 32 inch
LG Screen
Pro Tools 2021.6.0
Luna
OUTBOARD
Universal Audio Satellite Octo
Monitoring : Focal CMS 50
Monitoring system : Behringer powerplay 16 with 6 mini mixing consoles
Preamps
Warm Audio WA273-EQ (2 entries)
Radial JD7 Injector
Eventide H3500
Tuner KORG Dtr-2
(x4) DBX 160 A comp
Alesis 3630 comp
(x2) Drawmer DS 201
MICROPHONES
Large diaphragm Condensers
(x2) U87
Warm Audio WA-14
United UT FET47
Small diaphragm Condensers
(x2) Neumann km 184
(x2) DPA 4099
AKG 451
Audio-Tecnica Pro35
Sennheiser E608
Dynamic Microphones
(x4) Shure sm 57
Shure sm7b
(x3) Shure sm58
Shure Beta 58
Shure Beta 52
(x2) Sennheiser MD-421 Vintage (70's)
(x3) Sennheiser E904
(x2) Audio Om2
GUITAR AMPS
1992 Mesa Boogie Strategy 500
Mesa Boogie Stereo Simul class 2×90
Randall RM4
Randall Modules : Selma, Banned, Rhoadie/Benzin
2010 Diesel Herbert
Marshall JMP-1 rack unit
1984 Marshall JCM 800 2203
Marshall JCM 2000 DSL Orange crunch
Marshall SL5
Marshall MG100hdfx
Orange rocker 30
Hiwatt SA212 combo 50w
1980 Mesa Boogie Mark II 60wMesa Boogie Triaxis
Matamp mono canal with KT88 25w
Musicman RD12 late 70's 50w
Bugera 333 XL
Pignose 7_100 amp
Wem 10w
Daytona TC 300
CABINET
(x4) Marshall 1960A 4×12
Marshall MX421B
Matamp 1×12 Alcino Gold
ENGL E412 Vintage V30
Bass Amps
Ampeg SVT4-Pro
Ampeg 8×10 Cabinet
Guitars Pedals and Racks Effects
Line 6 HX stomp XL
Eclectro Harmonics Big Puff OpHamp Reissue
Digitech GSP 2101
Digitech whammy v4
Rocktron Voodoo Valve
Rocktron Intellifex
Dunlop Joe Bonamassa wah
MXR Custom Audio Electronics : Boost/Overdrive
Boss CE-5 Chorus
Boss OD-11980 Ibanez TS-9
Mister Black Supermoon
VL Effect Buillit Booster Fat Vintage
DRUMS
Yamaha Maple Custom 22×16/ 20×16/ 18×14/ 8×7/ 10×7,5/ 12×8/ 14×12/16×16 (color vintage natural)
Yamaha Maple Custom 22×16/ 20×18/ 8×7/ 10×7,5/ 12×8/ 14×12/ 16×16 (color vintage natural)
Yamaha Maple Custom Absolute 22×16/ 8×7/ 10×7,5/ 12×8/ 14×12/ 16×14/ 18×16 (Black) (color plim maple)
Yamaha Hybrid Absolute Maple 18×16 Floor Tom (color vintage natural)
Yamaha Stage Custom 22×16/ 10×7/ 12×8/ 16×15 (color white)
Yamaha Stage Custom 20×16/ 10×7/ 12×8/ 14×14 (color white)
Mapex Saturn Series (from Ion of Shaka Ponk) 22×20/ 8×7/ 12×8/ 14×14/ 16×16
Snares
Yamaha Steel 14×5,5 Jimmy Chamberlin
Yamaha Brass 14×5,5
Yamaha Beech 13×7 Akira Jimbo wood hoops
Yamaha Peter Erskine 10×4
(x2) Yamaha Stage Custom 14×5,5 birch
Mapex Saturn series 14×5,5
Ayotte Keplinger 14×5,5
ELECTRIC GUITARS
2008 Fender Stratocaster Billy Corgan Signature
2015 Fender Stratocaster US equiped with Lace sensor picks up
1998 Fernandes Decade Elite equiped with an electric sustainer
2016 Reverend BC 01 Signature
2012 Gibson Les Paul Traditional with Slash's alnico 2 picks up
1977 Gibson Les Paul Custom T-top picks up
Gibson Les Paul Double Cut
2011 Gibson Les Paul Standard PAF 59 picks up
1962 Fender Jaguar
1964 Fender Jazzmaster
1967 Mosrite Combo
Fender Stratocaster custom shop Shellpin
Acoustic Guitars
1994 Martin D 28
2017 Yamaha LJ 16BC
2005 Washburn Cumberland
Basses
2015 American Fender P-Bass
Squier P-Bass
PIANO
Nord Stage 2 EX
Straight Piano Wienner
Yamaha Clavinova (electric piano
Arturia Minilab